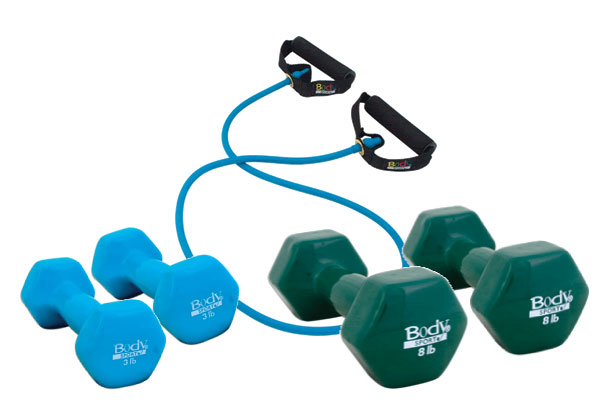 Sometimes bodyweight doesn't cut it
We design our apps to give you the best workout even when you have no equipment available, but to get the most out of your upper body workouts, sometimes a few basic items are needed. To really hit your back, shoulders, and biceps, all you need is a few pairs of dumbbells and an elastic tube to maximize your results. The Light Equipment Pack includes a light elastic tube and a pair of 3 and 8 pound dumbbells. Use the 8 pound weights to push yourself on big movements like chest press and shoulder press and then use the light dumbbells to hit those fine tuning movements like shoulder raises and bicep curls. You could also work your upper body from every angle with just one elastic tube. Plus it's a great piece of equipment to take on the road. Balance out your results and get the most out of your lolo training programs in Easy Arms, Easy Legs, Killer Butt, Seven Minute Workout, and Boot Camp Challenge.
Secure Checkout
Our online store is powered by Stripe, the revolutionary online payment processor trusted by thousands of sites and apps. They are a certified PCI Service Provider Level 1, which is the most stringent level of certification available. All orders are protected by 256-bit encryption to ensure absolute security.
We are here for you
We have always provided great service at lolo. We are here to answer any questions you have about our apps and offer advice on diet, exercise, and supplements. Feel free to contact our qualified premium support team at support@lolofit.com about any questions you may have concerning lolo products or if you need advice on your diet and exercise program. We care about your results and we are always here to help you reach them.
Product details
Light Elastic Tubing
Pair of 3 LBS. Vinyl Dumbbells
Pair of 8 LBS. Vinyl Dumbbells
Dumbbells are solid metal and coated with vinyl. Latex-free and easy to clean.
$5.95 Shipping (FREE Shipping with orders over $60)